Taxi
People Carriers
Mini Buses
Private Hires
Sightseeing Trips
Wedding Services
Airport Transfers
Cruising Docs
For Individuals
For families
For Small Parties up to 16 passenger
Wheelchair Accessible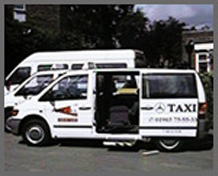 We have been providing up market transport services in a competitive market since 1972 in East and West Sussex. Located in the Adur District between Brighton and Worthing we are in a convenient position to provide Airport transfers from Heathrow, Gatwick, Stanstead, Biggin Hill, Southampton and Bournemouth. Our location also compatible to serving the growing holiday Cruise business from London and the South East to Southampton.

Our fleet of Mercedes vehicles provide acceptable comfort and luggage capacity for not only individual travellers but also for families and small parties including wheelchairs when required. Our fully trained staff are licensed and experienced to meet the most demanding of situations. They are just as happy providing local shopping trips or sightseeing expeditions as well as foreign travel.

Always Clean and Careful and Courteous.



Registered Office
1.st. Mary's House
st. Mary's Road.
shoreham by Sea
west sussex
BN43 5ZA
Tel: 08456 446 123
E-mail: info@accesstaxis.co.uk



Office Hours 0900-1900
Administration Office
28 Monks Close
Lancing
West Sussex
BN15 9DD.
Tel. (01903) 755533
Fax. (01903) 755535
info@accesstaxis.co.uk